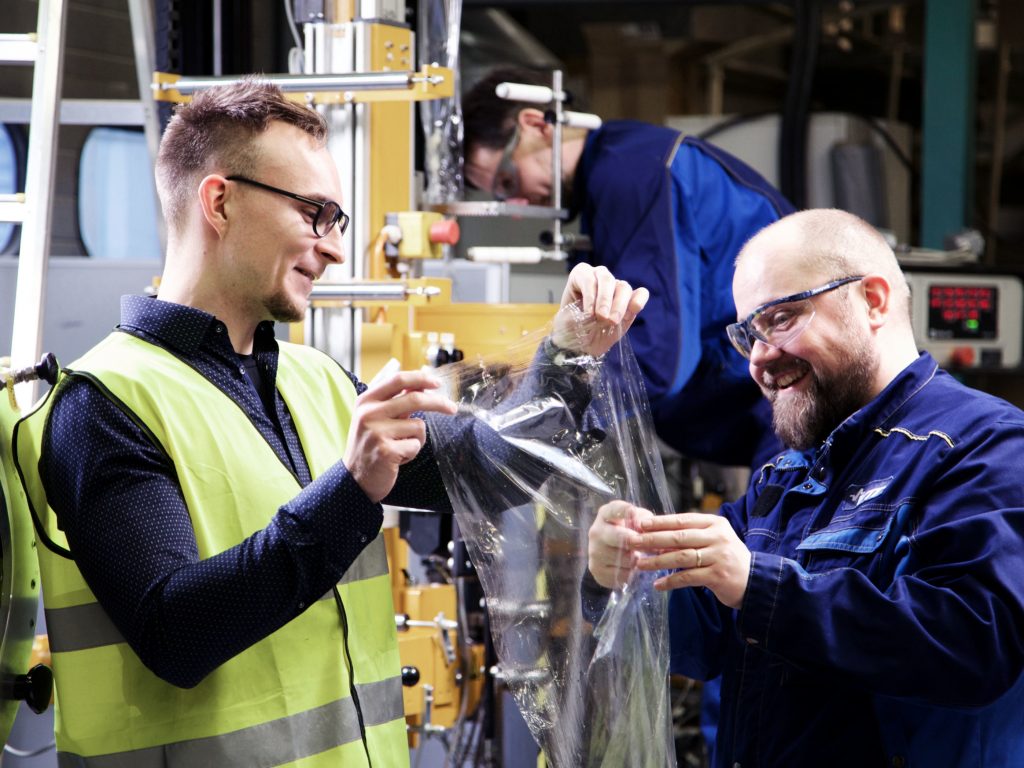 Woodly, developer of transparent, wood-based plastic film, has concluded a collaboration agreement with Wipak. Wipak manufactures packaging for food, pharmaceuticals and medical devices.
Wipak and Woodly aim at developing a portfolio of carbon-neutral plastic film packagings. Thanks to the collaboration, Wipak intends to halve its carbon footprint by 2025.
Woodly's long-term development of wood-based plastic replaces fossil-based plastic. The Woodly film can be printed with text and images, and it can be recycled with plastic waste.
Forty to sixty percent of the material consists of renewable raw materials. Jaakko Kaminen, CEO of Woodly, says that the rest of the material consists of "naturally found, non-toxic and edible material". This is more or less as much as will be revealed.
The raw material is not bio-based, though it could be that in principle. "Sufficient amounts are not yet available on a commercial scale," says Kaminen. However, he goes on to say that the share of bio-based material in Woodly can be increased as and when demand grows.
"With our partners, we are constructing a road map for scaling the production, and increasing the share of bio-based material in Woodly is part of that," Kaminen says. His company has previously initiated collaboration with Järvikylä, which sells leaf greens in pots.
Instead of manufacturing, Woodly is a developer
Woodly has three product ranges with market-ready film products. The finest grade can be used for packaging greens, for example, while the sturdier version can be used for boxes. The company is also developing an extrudable grade and another for coating carton packagings.
Woodly can be used in food packaging. The aim is to bring film products on the market before the end of year.
Woodly's products can replace conventional fossil-based plastics in various packagings for consumer products in daily use, such as polyethylene, polypropylene and PET. According to a lifespan analysis by the Pöyry consulting company, the products are carbon-neutral and do not accelerate climate change.
Woodly itself does not engage in manufacturing. "Our business is research, product development and marketing, as well as looking for partners who can support this and take charge of raw materials procurement and manufacturing," says Kaminen.
"Biodegradability is a difficult concept"
The company products are based on FSC-certified softwood pulp. The supply of this, however, is not that plentiful in Finland, and Kaminen has been asked why they chose FSC.
Kaminen says that a beginning start-up company is not in a position to select its partners from among a great range of companies. "We need to build a network. We require the wood fibre we're using to be certified. Our partner is from outside Finland, from a country where FSC certification is more widespread," says Kaminen.
The Woodly range is not biodegradable. "Or at least, we don't advertise it as being that, though there are bacteria in nature that can feed on our films," Kaminen says.
This is a conscious choice. "Biodegradability is extremely difficult to communicate about. The way people understand it is that if you throw a biodegradable box by the roadside, it'll simply disappear," Kaminen says.
This, however, is not how it works. Biodegradability always depends on time and environmental conditions. Materials that are degradable in industrial composting processes do not always disintegrate at all if thrown by the wayside, or they take an unreasonable time to do so.
"Recyclability is the main thing"
It is possible to make packagings that are rapidly biodegradable, but this comes at a cost. The faster a package disintegrates, the more of its other properties must be omitted. Moreover, almost all of the carbon contained in a product is released into the atmosphere in biodegradation.
Kaminen says biodegradability is not as heavily in demand as recyclability. "That is an absolute must if we want to solve the plastics problem," he says.
The volumes of plastic used globally are so huge that it is absolutely impossible to replace them with bio-based products if all of the raw material should be virgin, or non-recycled. What is more, the greatest challenges have not been encountered yet.
"It has been predicted that the demand for plastics will quadruple by 2050. No way can we handle that without recycling," says Kaminen.